Cross Country this Saturday will be at Uloola Falls.
Also, 10km will be starting this week!
Date: Saturday 16 April 2022
Time: 1:50pm – 3:30pm
Location: Uloola Falls Fire Trail, Royal National Park, Waterfall
Google Map: https://www.google.com.au/maps/place/Uloola+Firetrail,+Waterfall+NSW+2233/@-34.1383951,150.9965601,372m/data=!3m2!1e3!4b1!4m8!1m2!2m1!1suloola+falls+fire+trail!3m4!1s0x6b12c2e106174f15:0x3f2c2a3ce8e68a0c!8m2!3d-34.1380085!4d150.9974076
Please note, vehicles will not be able to access the track down to Uloola Falls due to the recent wet weather conditions.
Parking can be accessed on McKell Avenue in front of Waterfall Public School or at Waterfall Station carpark.
If parked at Waterfall Public School, walk down the track located next to Waterfall Public School to Waterfall Oval.
If parked at Waterfall Station walk along Couranga track which starts at the back of the carpark to Waterfall Oval.
See map image for visual directions to the course from these locations.
Timetable:
1km – 1:50pm
2km – 2:00pm
3km – 2:15pm
5km – 2:30pm
10km – 2:30pm
5km and 10km events are a combined start.
Pointscores for Handicap and Club Championships begin this week for all registered athletes.
The course will be out and back for all events. The course is along an undulating fire trail.
Timing chips are being used to record athletes time this season.
If you don't have a timing chip, please purchase on the day. Cost is $5, cash only.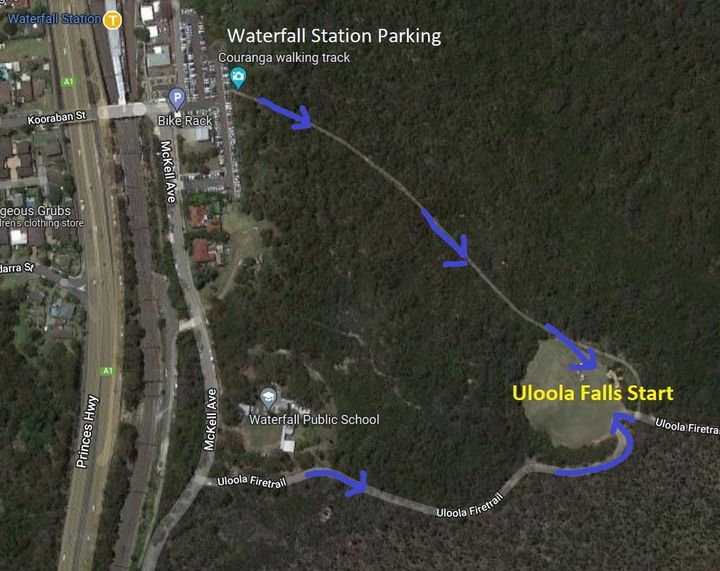 View this post on Facebook.