NSW CROSS COUNTRY RELAYS – SATURDAY 4th JUNE – NORTH RYDE COMMON
Expressions of interest are now open! Please follow the 3 easy steps below.
1. Ensure you are registered with Athletics NSW for the 2021-2022 season. If you do not hold a current membership, visit the SDAC website to register: https://www.revolutionise.com.au/sdathletics/registration/
2. Fill out this form by 11:59pm on Saturday 28th June: https://docs.google.com/forms/d/e/1FAIpQLSdmA2ZoNCc_WCrf7Zp4OS9hl51DlJuHsfC4IBzyflOfFtmOLw/viewform
3. The club will be paying and registering all athletes competing in relay teams.
4. Keep training!
Event Details and Age groups:
4x2km: U12 & U14
4x3km: U16, U18, U20 & 70+ Masters
4x4km: Open & Masters (30-69 Years)
Time: 11am – 5pm
Timetable: TBC by Athletics NSW
More details below:
https://www.nswathletics.org.au/events/136649/
Please see the image below for current teams. Currently most teams only have one or two athletes so if you would like to compete and can attend, please fill out the form above so that we know.
Please note: We may need to merge teams if athletes from multiple teams are unable to form one on their own.
We will do our best to give every athlete who has expressed interest the chance to run, but if we cannot find a team for them, we will send an email informing them.
Please fill in the form by Saturday 28th May as we need to finalise entries by this date so that we can enter teams by the deadline.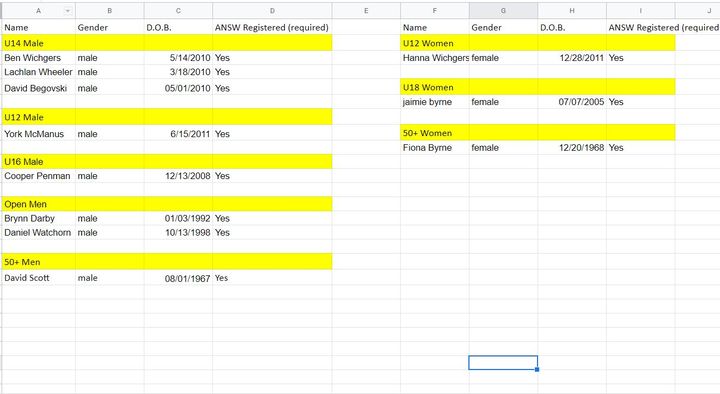 View this post on Facebook.