ATTENTION: The Sutherland Sprint 100 is coming up soon!
Entries are now open and can be accessed using this link: https://www.revolutionise.com.au/sdathletics/events/131860/?fbclid=IwAR12c7IRkU5Z91_ADXRcguM-1BXpSK_PjUtfcf3oqvBBGYS7a6Huwx9aCuA
Don't miss out on the chance to get amongst the action in Sutherland District Athletics Club's biggest sprint event of the year which also doubles as an ANSW Permit Meet!
Cash prizes will be on offer in the 100m races for the U/14, U/16, U/18 and Open Age groups.
U/14 100m Winner: $50 (male and female)
U/16 100m Winner: $100 (male and female)
U/18 100m Winner: $150 (male and female)
Open 100m Placegetters: 1st place – $300, 2nd place – $200 and 3rd place – $100 (male and female)
There will also be a $1000 RECORD BONUS for anyone in the Open 100m event who can break the Sutherland Athletics Club Record whether they belong to the Sutherland Athletics Club or not!
NOTE: Only applies in the Sutherland Sprint 100 final at 7pm
The records are:
Male: 10.19s held by Daniel Batman (2005)
Women: 11.30s held by Susan Clark (1979)
Supporting events will also be on offer (see timetable below).
Date: Sunday 6th March 2022
Location: Sylvania Waters Athletics Track, Sylvania Waters
Time: 4pm-7:30pm (Subject to Change)
Timetable:
4.00pm: 1500m (Womens and mens)
4.20pm: U/14 100m heats
4.30pm: U/16 100m heats
4.40pm: U/18 100m heats
4.50pm: Open 100m heats
5.00pm: Shot Put
5.30pm: 400m
5.30pm: Long jump
6.00pm: 800m
6.30pm: U/14 100m finals
6.40pm: U/16 100m finals
6.50pm: U/18 100m finals
7.00pm: Sutherland Sprint Final (Open 100m finals)
NOTE: Entries close on Friday 4th March at 4pm.
Athletics NSW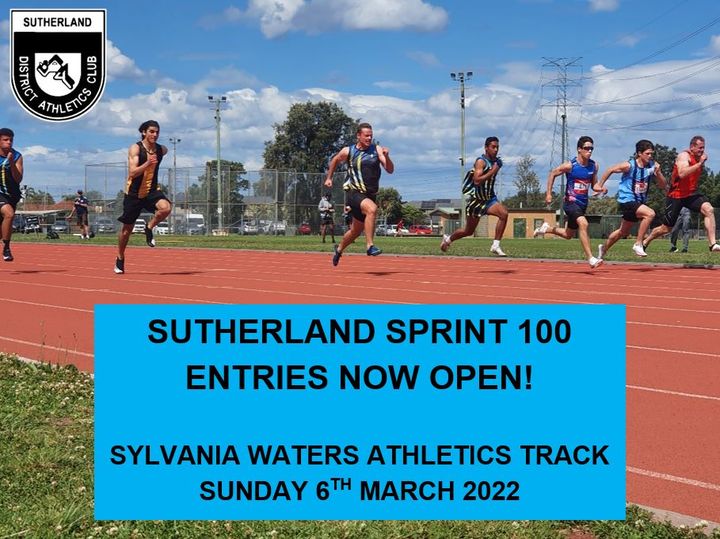 View this post on Facebook.