This Saturday's Cross Country will be at Sutherland Bike Track, Waratah Park, Sutherland on 12th June.
Location: https://www.google.com.au/maps/place/Sutherland+Shire+Cycling+Club/@-34.0431601,151.0528743,373m/data=!3m1!1e3!4m5!3m4!1s0x6b12c72e0263dafd:0x2318d20447f0b432!8m2!3d-34.0436147!4d151.0534784
The course is covered by completing multiple laps of the track for each race. The short lap is approximately 500m whilst the long lap is 1.5km. See course map below for laps taken for each race.
This race will also be an interval start meaning that each runner will start based on their handicap time determined from performances in previous races this season. Slower runners begin first with the fastest runners starting last.
NOTE: The 1km event will be a normal start as there is no handicap pointscore for this distance.
We ask that runners arrive in a sufficient time before their race start to ensure that they have registered for their race and received their handicap time.
We will be releasing the handicaps for all runners here tomorrow evening for runners to check beforehand.
TIMETABLE:
1km – 1:50pm
2km – 2:00pm
3km – 2:15pm
5km – 2:30pm
10km – 2:30pm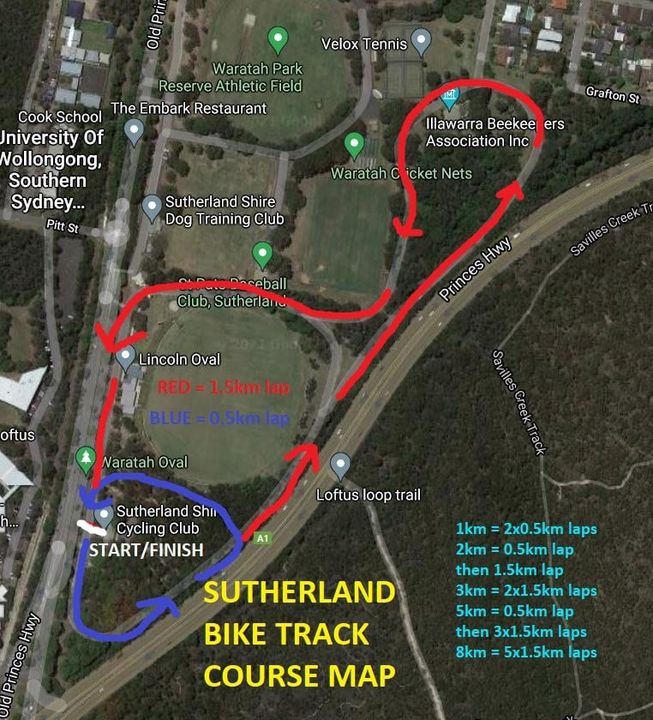 View this post on Facebook.