The winter cross country calendar is now available.
This week's event will be at Grays Point, information will be available soon.
Events will be on weekly for all members whether they are registered with ANSW or are community members.
Club pointscores for handicap and, Junior and Senior Club Championships will be commencing this weekend.
The handicap pointscore will be available for each distance group from 2km and up.
The club championship is conducted as follows;
2km – U11 age group
3km – U14 age group
5km – U17 and U20 age groups
10km – Open
For both of these championships, points are given for week to week performances with the winners announced at the conclusion of the season at the Presentation Day.
Athletics NSW Championships for this year are;
2 May – Sydney 10 (inc. NSW Road Championship) – Sydney Olympic Park
22 May – NSW Novice Cross Country Championship (includes fun runs for non ANSW members) – Scarborough Park, Ramsgate
5 June – NSW Cross Country Relay Championship – North Ryde Common
26 June – NSW Cross Country Championship – Nowra
10 July – NSW Road Relay Championship – venue TBD
1 August – NSW Short Course Cross Country Championship – venue TBD
Please refer to the ANSW website for further information regarding these events. This can be accessed here;
https://www.nswathletics.org.au/events/list/&cat=2643-2644-2697-2698-3489
On weekends of NSW Championships, there will be an alternative club event for those not wishing to attend these championship events.
The season will conclude on 7th August with the last race being held at Audley with the Presentation Day and barbeque being held the week after on 14th August.
An excel version of the winter calendar is available here;
https://1drv.ms/x/s!AqZkYvj80z3l5EWlbaNKPjupSwLV?e=p6eycZ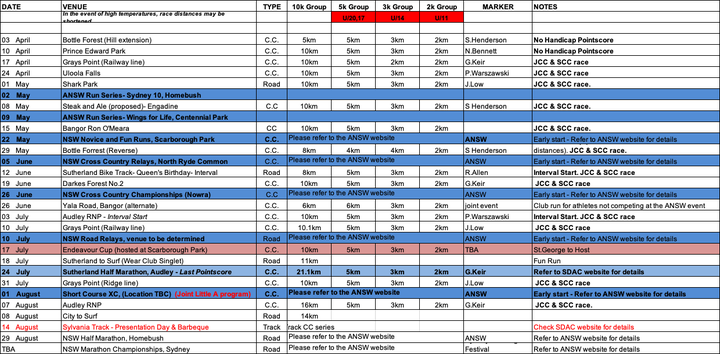 View this post on Facebook.